How I Changed My Diet Using the Food Pyramid: Case Study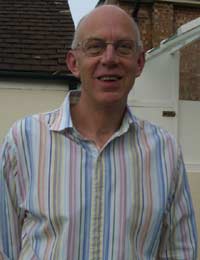 Tony doesn't look unhealthy, although when he was a teenager he was substantially overweight and resorted to crash dieting. So when he was told by his GP that he was at risk of many health problems he was shocked.
He'd been given a 'health MOT' when he turned fifty and he'd felt sure he would, as he put it, 'pass with flying colours, apart from my smoking' so to discover that he had high cholesterol and high blood pressure was a very unpleasant surprise.
Tony decided to use the food pyramid as he felt that a visual representation of a good diet would be more of a reminder than anything else. He printed out two large colour copies of the food pyramid diagram and put one up in his kitchen at home and the other on the wall of his office.
'To be honest, I almost never looked at them,' he admits. 'But it worked anyway because everybody who came into the office asked me what the pyramid was, so I got reminded about healthy eating, and my wife totally took the food pyramid to heart and planned all my meals, including packed lunches on the food pyramid principles. So I never got any unhealthy food unless I went out and bought it!'
Using the Food Pyramid
'I got the idea of it pretty quickly – the biggest amount of food I ate every day had to come from the bottom layers of the pyramid. My GP said a good way to approach it was to have a different 'base' every day, so I would choose between bread, potatoes, rice, pasta or couscous for lunch and have a different 'base' for dinner. If I had a sandwich for lunch, no pizza for dinner because they were both bread. If I had pasta for lunch, I'd have something with rice or potatoes for dinner.' His wife, who cooks most of the evening meals, switched from white rice, pasta and bread to wholegrain and that increased their fibre intake.
Avoiding Cholesterol Rich Foods
Here he admits he struggled. Giving up some of the foods he really enjoyed was 'very tough' and he began by limiting his lunches at work to one fried meal a week so he only got his beloved fish and chips every seven days. Then he began to eat breakfast every day. 'That was the biggest, easiest thing I ever did,' he says. Eating low sugar, low fat cereal with skimmed milk each morning, and a yoghurt as part of his lunch every day provided fibre, protein and vitamins without adding much fat or sugar and allowed him to cut down on some of the foods he'd relied on to fill him up: sausage rolls, biscuits, peanuts and crisps. He realised his low energy levels were triggering bad eating behaviour, 'I would eat savoury snacks in the afternoon because I felt tired and lacking in energy, but they were full of fat and salt and that took its toll.'
He has what he calls an 'addiction' to processed meats such as bacon and sausage and this was a major concern for him – it was very difficult for him to cut down on these foods and finding substitutes in the food pyramid such as popcorn with cracked pepper, took some effort.
He still finds it difficult to balance his diet – he often 'forgets' to eat the fresh fruit item that his wife includes in his lunch because he doesn't find it very exciting, and he can easily fall into snacking on salty foods. 'My high cholesterol is due to eating too much salt, and I used to sprinkle it on my food at every meal. I learned to taste the food before salting it and to use other forms of seasoning such as dried herbs, low sodium salt and liquid seasonings like low salt soy.
Successful Dietary Balance
Tony admits that it was useful to discover that his diet was too heavy in some areas of the pyramid and too restricted in others. Ensuring he ate from each section of the pyramid as a simple way to improve his diet without complex calculations that would have been difficult to maintain in the long term.
After a year, when his results were re-assessed, Tony found himself with a healthy cholesterol level but more than that, his blood pressure was back to normal and he'd started running for pleasure again.
'It was great to find such a simple way to improve my diet,' he says. 'And once I started to feel better I found it easy to build in exercise too, which really boosted my health and added a lot of fun to my life. I'm even training for a marathon now!'
You might also like...
You should clearly mark that you are advertising on your site and mark the advertisements clearly, because it is confusing what is your information and what is a profit-incentivised, pharmaceutical funded advert that sells mis-information! Thanks
char
- 1-Oct-13 @ 1:09 PM