Dinner Party Food: Pyramid Style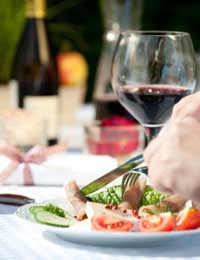 Dinner parties are supposed to be fun, but all too often the host and hostess run themselves ragged and the guests eat too much rich food and pay for it with indigestion and bad moods the following day. Planning a dinner party on food pyramid principles will allow you to relax and your guests to enjoy great food that leaves a lasting impression of well-being.
Hints And Tips For Dinner Parties
Begin by making a fair assessment of your cooking abilities – over enthusiasm can lead to disaster, so it's best to underestimate your skills and find you've taken the cooking stage in your stride.
Make lists of the ingredients you need, the utensils listed in your recipes and the table items you require. This way you don't get to the end and find you are missing candles, or flowers or an essential spice or dressing you were supposed to hand round with the dinner.
Plan carefully: choosing only one dish that needs to be cooked really takes the pressure off the chef. If one dish can be prepared up to a day in advance, it also spreads out the workload and allows you to feel that you've got at least one course completely ready before the day of the dinner party.
Remember to decorate – it is said that we eat with our eyes, so a pretty table can set the mood for a successful dinner party. Traditional festivals and events can make table décor easy, or you can focus on seasonal beauty by bringing spring, summer, autumn or winter to your table without spending a fortune. Flowers are cheap to buy in spring and summer but bare twigs, painted white, and sprinkled with glitter make an impressive winter centrepiece, while autumn fruits can be piled in a bowl and look abundant and delicious.
Fig Chicken
This recipe provides around three-quarters of the average woman's meat intake from the food pyramid (slightly less for a man) and less than twenty per cent of the oil allowance, so it's a very healthy dinner party dish, when served with a big mixed salad. It serves four.
Ingredients
4 skinless, boneless chicken breasts sliced in half lengthways
1 sprig fresh thyme
Freshly ground black pepper
1 tablespoon olive oil
15 grams butter
2 chopped white onions
75 ml low salt chicken stock
25 ml balsamic vinegar
2 teaspoons low salt soy sauce
100 grams fresh figs, finely sliced
Method
Strip the thyme leaves from the stem and sprinkle them, along with the pepper, on both sides of the chicken breasts.
Heal the oil in a large frying pan and add the chicken pieces, cooking for around six minutes on each side until well cooked. Remove from the pan and keep warm.
Reduce the heat slightly and add the butter to the oil remaining in the pan. Tip in the onion and cook, stirring for around three minutes. Pour in the stock, vinegar, soy sauce, and sliced figs and simmer for around three minutes until the sauce is reduced and glossy.
To serve, slice the chicken breasts on the diagonal and lay them on the plates – pour the sauce over them and serve with a large bowl of salad.
Impressive Fruit Salad
This makes the most of the need to eat more fruits, by giving standard fruit salad an elegant new twist.
Ingredients
20 grams crystallized ginger, finely sliced into matchsticks
2 tablespoons lemon or lime juice
60 ml honey
1 cantaloupe melon
1 fresh pineapple pieces
150 grams strawberries, sliced
100 grams raspberries
Method
Blend the ginger, lemon juice and honey in a large serving bowl.
Cube the melon and pineapple and add to the juice, mixing gently.
Cover and refrigerate overnight.
Just before serving, add the strawberries and raspberries and serve.
You might also like...