Seasonal Eating Food Pyramid Success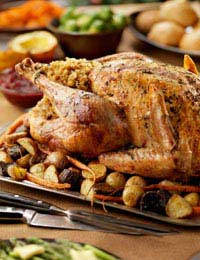 Sometimes taking on another eating guideline can seem like too much, but combining the food pyramid with seasonal eating can make a great deal of sense because it encourages health for you and well-being for the planet as well as starting you on the adventure of exploring foods that are at their best when you eat them.
Why Eat Seasonally?
Eating local seasonal food can reduce the energy used to grow food and the food miles used to transport it
It's cheaper to buy local seasonal food
It supports the local economy and local traders
Seasonal food is fresher, tastier and will be more nutritious
You reconnect to the cycles of nature.
All this is good for your emotional wellbeing as well as your nutritional intake – it allows you to treat your diet as a quest to find good food that is seasonal.
What is Seasonal Eating?
While we tend to think of fruit and vegetables that as being the sole components of seasonal eating – there are seasonal fish, seafoods and meats that taste much better if we eat them when they are at their best, particularly because they are likely to be local and therefore less packaged.
We all have 'top ten' foods and we've got used to eating them all year round, but it's just as much fun to discover new delicious foods when our particular favourites go out of season. Eating seasonally is about enjoyment of what comes and goes, not about abstinence and refusing to eat what isn't seasonal. If you're keen on eating good quality food, you'll naturally tend to become a consumer of what is in season and not to be as interested in what has been flown half way around the planet to reach the shelves of the supermarket.
How Seasonal Eating and the Food Pyramid Work Together
The food pyramid is designed to improve our diet so that we enjoy our food and benefit from it. Recent research by the Austrian Consumers Association has found that vegetables picked and frozen when in season are richer in vitamins and nutrients than the same vegetables flown in from abroad out of season. This suggests that growing your food, or buying it in season and freezing it at home, can really boost your nutritional intake. The British Nutrition Federation says that fruit and vegetables in season have a higher vitamin C content as well as being cheaper and more easily available. Because vitamins can quickly deteriorate over time, it's valuable to buy fresh food and eat it rapidly. Buying seasonally can also mean there are fewer preservatives in our diet.
There is some evidence that a seasonal diet is also better for your body because it provides you with foods that we have evolved to eat naturally. It also provides you with a complete change of diet over the year, so that you are exposed to many different forms of food and many different ways of cooking so that you are given many beneficial new tastes, textures and flavours.
Some research is also pointing to the suggestion that food allergies and intolerances may not be as prevalent in those who eat seasonally because they do not eat the same thing day after day and because they build up a strong auto-immune system that helps them cope with stressors in their diet.
You might also like...