How Much Do You Know About Food Pyramids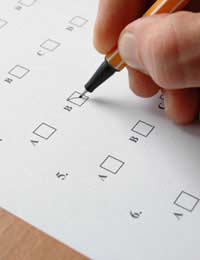 We can use the food pyramid to help improve our eating and health, and the more we understand it, the better the choices we will be able to make about a healthy diet and the easier it will be for us to improve our nutrition. This simple quiz tests your understanding of the food pyramid guidelines.
Vitamins and the Food Pyramid
Vitamins are essential to the healthy growth and maintenance of our bodies. From birth to extreme age, an adequate consumption of vitamins helps keep us strong and allows us to fight off diseases.
While vitamin supplements are useful for those who cannot eat a balanced diet, it's best to try and get your vitamin intake from fresh and whole foods, as this gives you a wide range of other nutritional benefits such as anti-oxidants, trace elements, and fibre.
Which vitamin is found in wholegrain foods which make up the largest part of the food pyramid?
B vitamins, which we need for energy and growth and to support the development of the brain.
Vitamin C, which is essential for good teeth, gums and skin and helps the body absorb iron.
Vitamin D, which boosts bone development in the young and can help stave off conditions such as osteoporosis in older people.
Vitamin K, the vitamin essential for blood clotting that allows wounds to heal.
Answer: It's B vitamins – some cereals do contain trace amounts of vitamin K but all wholegrain cereals are rich in the vitamin B complex of B6, which helps the body to break down proteins and carbohydrates and turn them into energy and is an essential building block of haemoglobin which is the fluid that allows oxygen to travel round the body and B12, which is added to fortified breakfast cereals and helps us make red blood cells.
Dairy Foods and the Food Pyramid
The milk section of the food pyramid contains all dairy products such as yoghurt, cheese and cream. An adult should be trying to consume three portions of food from this group, and aiming for the low fat options where possible.
Which of these is not contained in the dairy group?
Calcium to develop strong teeth and bones.
Vitamin A to maintain skin health and help immune system fight infections.
Potassium helps our muscles develop and to recover from activity.
Vitamin D to build strong bones throughout life.
Answer: it's Vitamin A. All the other nutrients, vitamins and trace elements are found in milk, although Vitamin D is not found in all dairy products and may be adding during processing to some of them, especially foods intended for children.
The Vegetable Group and the Food Pyramid
Vegetables are one of the building blocks of a healthy diet. They contain vitamin C which helps us absorb iron, vitamin A for skin and hair health and good eyesight, vitamin B6 for improved brain function and fibre, which can help prevent heart disease and cancer. But how many servings of the vegetable group does the food pyramid suggest we eat every day?
Five servings of five different vegetables
Five serving spoons of any vegetable
Five cups
Two and a half cups
Answer: the answer is two and a half cups daily. Because the food pyramid was invented in America, food portions are measured in cups. The five a day food recommendation comes from the Food Standards Agency and works with the food pyramid – for the best possible health we should eat five different fruit and/or vegetables every day, and their total volume should add up to two and a half cups daily of vegetables and a further one and a half to two cups of fruit.
How did you do? If you got more questions right than wrong, you're well on your way to a healthy diet!
You might also like...