Gourmet Food Pyramid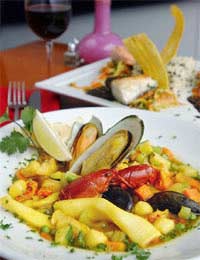 Resistance to changing the diet sometimes happens because they have had a bad experience, for example a diet imposed on them by their parents or by a school, that was mundane or downright unpleasant, and this has given them good reason to distrust the idea that 'healthy eating' can also be enjoyable.
This is a shame because the food pyramid guidelines actually encourage people to be more adventurous in their shopping, cooking and eating habits so that their diet becomes more varied and tasty as well as being more nutritious and healthy.
Gourmet eating and healthy eating can go hand in hand if a few guidelines are borne in mind.
It used to be that meals were planned around the protein content, which was usually meat and then filled up with starchy foods such as potatoes or rice. Today, with many more foods at our disposal, and a better understanding of our bodies' needs, we can plan much more exciting meals where meat is treated as a much smaller proportion of our overall intake and more of our diet is based on grains, fruits and vegetables.
Colour And Gourmet Tastes
In terms of gourmet cooking, colour has become a key feature of organising a meal or a week's food planning. Eating a range of differently coloured foods is the best way to cover the nutritional range as well as the colour one, and it's a treat for the eyes too: dark foods such as aubergine, blackberries and steak contrast with light ones like mushrooms, risotto rice and pineapple, and offer a contrast of tastes and nutrients that make any meal into a feast.
Texture And Taste
Having some crunchy foods, some smooth ones and some chewy ones on your plate or during the course of the meal provides a gourmet range of experiences to the palate. We tend to do this naturally, most crunchy foods like celery, for example, are served with a smooth and creamy dip, or succulent chicken is served in a crispy breadcrumb coating, but think about novel ways to deliver these delicious contrasts: smooth yoghurt with crunchy cereals, or crisp lettuce served with soft buttery avocado.
Gourmet Ingredients
You don't have to give up your gourmet preferences to eat more healthily.
Truffles like other fungi are an extremely luxurious food and, ounce for ounce, one of the most expensive, but they are a welcome addition to the food pyramid diet.
Seafood is generally high in omega fatty acids and in zinc, both of which are essential to brain maintenance and formation, so you can eat sushi and shellfish (as long as they aren't in overly fatty sauces) with complete confidence that you're doing the best thing for your body and mind.
Chocolate is often something that people rule out of a 'healthy' diet but actually, dark organic chocolate with over 70% cocoa solids can be very good for you. It contains eight times as many antioxidants as strawberries, it has flavonoids which help reduce high blood pressure and it contains endorphins, which promote a feeling of wellbeing and are especially important to people suffering from depression.
So don't feel that you must suffer if you want to eat more healthily – look at your diet with a gourmet's eye and find new ways to improve the taste, and the health quotient, of your food.
You might also like...