Food Pyramid for Weight Gain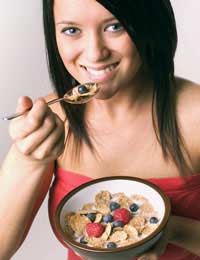 Most people wish to lose weight, but for a percentage of the population, gaining weight can be important. If you've been ill, or have a medical condition that makes it difficult for you to maintain a healthy weight, using the food pyramid guide can assist you to keep your weight at the right level while improving your overall nutrition.
However, if you have lost weight unexpectedly and haven't been obviously unwell, you should visit your doctor to explore whether there is an underlying cause to your weight loss.
What Counts As Underweight?
A measurement called the Body Mass Index or BMI is the simplest way to establish if you are underweight. The BMI is a reasonable indicator of how much body fat you have which in turn is key in deciding if your weight is likely to have an overall effect your health. To use the BMI
1. Work out your height in metres and multiply the figure by itself
2. Measure your weight in kilograms
3. Divide the weight by the height squared (i.e. by the figure you got in point 1)
If you have a BMI of lower than 18.5 – you would be considered underweight, while those between 18.5 and 24.9 are classed as being a healthy weight and anybody over 23.9 is considered overweight.
How To Gain Weight Sensibly
If you need to gain weight, you will need to increase the amount of food you eat from all of the food groups in the food pyramid bearing in mind that energy density matters when trying to gain weight. Energy density means the amount of energy or calories compared to the weight of a given portion of food. Vegetable and fruits tend to be less energy dense which makes it particularly important for vegetarians and vegans to monitor their diets if they wish to gain weight.
To put on around a pound a week, most people in good healthy will need to consume an additional 500 additional calories a day, but aim to increase your food intake without consuming too much extra fat and sugar – some fats and sugars are better than others, for example a little herb infused olive oil on baked or boiled potatoes or honey drizzled over dried fruit, both of which have health benefits as well as being energy dense additions to your diet.
Creating a diet that allows for sensible, sustainable weight gain means concentrating on a good mixture of complex carbohydrates from wholegrains, lean protein foods, and healthy fats.
Meals, Weight Gain And The Food Pyramid
Breakfast is especially important if you find it difficult to gain weight. An example of an ideal breakfast for somebody on a weight gain diet would be muesli, which combines the grain section of the pyramid with dried nuts, chopped nuts from the protein section of the pyramid, a banana which is an energy dense fruit, and half-fat milk from the dairy section.
A mid-morning snack could consist of a couple of wholegrain biscuits with cream cheese and grapes.
A sample lunch might include two slices of wholegrain bread made into a sandwich with half an avocado, and half a tin of tuna in oil, two sliced tomatoes, a handful of olives, and some mixed salad leaves. A portion of cheddar cheese or a yoghurt with some sliced fresh fruit and a teaspoon of sesame seeds would make a good afternoon snack to follow this lunch.
Dinner could be a healthy pizza made with tomato puree, mozzarella, fresh herbs and grilled chicken pieces, followed by a flapjack with dried fruit that had been marinated in green tea or fresh fruit juice.
Taking your time when eating and ensuring you are relaxed can help your digestive system function properly which means your body uses the nutrients effectively. Try playing some favourite calming music while eating and allowing plenty of time to savour each mouthful. When attempting to gain weight, it is often beneficial to eat multiple small meals per day, rather than a few large meals
Is It Bad To Be Underweight?
Some people are naturally slim, no matter how much they eat, while they may be the envy of friends who gain weight, it can still be difficult for the thin person to feel confident about their build. Exercise can increase the size and function of your muscular system which both bulks up the body and allows people to feel better about their body's functioning.
You might also like...
There is excellent advice here, and as a somewhat picky eater I'd even just make do & have what meals/snacks you have recommended here literally. I'm aware working out may increase your hunger. Likely giving up smoking too. ~ But any other ideas too plz? Also... I recently discovered that spinach is v.tasteless and I have bland tastes. Should I be loading up on such things like that? :-)
Alan
- 8-Aug-22 @ 6:36 PM