Food Pyramid for Vegetarians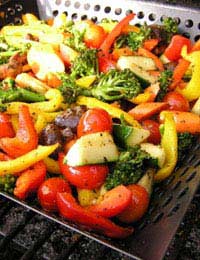 Most people agree there are different forms of vegetarianism: lacto-ovo vegetarians who exclude meat, poultry and fish, and lacto-vegetarians who don't eat meat, poultry, fish or eggs. So-called piscatarians eat fish but not red meat, poultry or eggs on the basis that fish are not exploited only caught, so they don't eat farmed fish either.
Whatever the basis of your vegetarian diet, it can be a healthy lifestyle as long as you pay attention to the basic food groups in the right proportions and additionally, ensure you get enough of three key nutrients: iron, protein and selenium, which can be reduced or even missing entirely from a meat-free diet.
Food Pyramid For Vegetarians
Assuming you eat dairy products, the only change from the basis food pyramid is in the area that would usually contain meat, fish and meat products. In this section, the vegetarian will be replacing meat with other protein rich foods. As an example, the standard pyramid advises eating around 75 grams of meat a day, and for the meat-free diet this meat can be replaced with beans or tofu, a soya-burger or soy-sausage or other meat replacement food, or peanut or cashew butter, or some nuts.
Three Key Nutrients For Vegetarians
Iron
Meat is the best source of obtainable iron in the average diet. Iron is also found in all pulses, in green vegetables (especially leafy ones) in certain breads and in fortified cereals.
For the vegetarian it's vital to ensure enough iron is consumed, and as it isn't stored, long term, in the body, the iron needs to be consumed on a daily basis. As iron is more easily absorbed from food if eaten with other foods that contain vitamin C, it's sensible to eat iron rich food in combination with fruits, vegetables or simply with a glass of orange juice. Similarly, because tea and coffee contain polyphenols that inhibit the uptake of iron by the gut, it's a good idea not to drink caffeine-rich drinks (including soft drinks) when eating iron rich foods.
Protein
The intake of protein to the body is complex for vegetarians. There are a number of good sources including pulses, nuts and seeds, eggs (if these are acceptable to you) all soya products, some cereals and dairy products (if you consume them). The complication arises because the amino acids that make up a protein are necessary to the body, this is why they are called essential amino acids, and can only be ingested, the body cannot make them from other foods.
But only soya and the grain quinoa contain the complete range of essential amino acids, so vegetarians must eat more than one form of protein at a time. Meat, eggs and fish all contain the complete range so meat eaters don't have to worry. Getting the right proteins in combination is easier than it sounds. You could eat beans on toast or have cereal with milk, rice with a lentil curry, enjoy a vegetable chilli made with kidney beans and served with rice.
Selenium
Selenium is an element vital to health but only needed in very tiny quantities. Brazil nuts and walnuts are both good sources of selenium and some breads also contain it. Eggs are a good source if you eat them, and if you are a piscatarian you are probably getting selenium.
You might also like...