Food Pyramid and School Dinners: Government Guidelines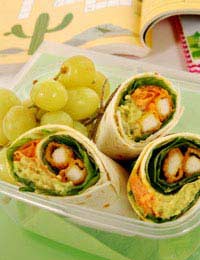 The food pyramid aims to help us all improve our diets and live a healthier, longer, life. But for parents and children, the process of choosing food is often not entirely in their own hands – school meals provide many children with one third, or more, of their calories and nutritional intake every day.
New government guidelines have been created to help schools and their caterers to provide our children with better nutritional choices. Understanding the guidelines can help you to give your children better tools to make their own food choices when you're not there to supervise them.
The first thing to be aware of is that there is a clear government statement that there is no such thing as healthy or unhealthy foods, only healthy or unhealthy diets. This means that you can relax straight away about what you eat – no foods are ruled in or out, it's just a question of balance and proportion!
Healthy Eating Guidelines For Schools
The guidelines go on to say that children aged five and over need:
a balanced diet – this means plenty of variety in the foods eaten and foods that provide enough energy for growth and development
lots of foods rich in fibre like bread and rice, or pasta, potatoes and yams which are often not eaten enough by children
many different fruits and vegetables on a daily basis
not too much dairy, meat and fish
few foods that contain a lot of fat, especially saturated fat
sugary foods and drinks as occasional treats only.
This definition of a healthy diet is based on government research that shows that many British children eat too much fat and have sugar high foods and drinks on a daily basis. This means that children, as a whole, are getting fatter, and that they develop a 'sweet tooth' which means that they find natural foods less sweet to their palate and so prefer foods with added sugars. Over time this can lead to many health problems. Also, children aged five to sixteen make high demands on their body in their work and play and just in developing into adults – as a result, a poor diet can cause them to have weaker bodies and physical systems than they deserve.
Because children use vast amounts of energy, it can be difficult to find the right balance of foods. They need high intakes of energy, calcium, and iron and girls in particular are sometimes found to lack iron, meaning that they develop anaemia. Calcium is important for strong bones and foods containing folates (folic acid and Vitamin B9) are vital to the healthy development of girls and young women. Schools are encouraged to ensure that school dinners off a range of choices that are rich in calcium, folates and iron.
School Meals - Daily Contents
In essence this means that school dinners should contain:
Starchy foods on a daily basis
Fruit and vegetables, which should be available daily, and fruit-based desserts twice weekly
Milk and dairy foods, preferably in the lower fat options
Meat, fish and alternative sources of protein – while red meat has to served twice a week and fish once a week, dietary guidelines have to cater to those who have religious or cultural restrictions in their diets or who prefer not to eat any form of meat.
The guidelines also recommend the following:
Drinking water should be available daily, free of charge.Milk as a drink should be available as part of school meals.A hot meal should be served, where possible, in winter.
Helping With Healthy Eating at Home
At home you can support these recommendations for healthy eating by:
Finding out what your child ate and providing foods in the food groups that haven't been chosen for lunch – so if your child had cheese sandwiches for lunch, go for a red meat or lentil option for dinner. To get information from your child, especially younger ones, give them a paper plate and get them to draw their lunch on it with coloured pencils – they are much happier to do this than to list foods!
Teaching an older child how the food pyramid and healthy eating plate work, so that they can make healthy food choices over the week at school, for example if they have chips on Monday and Tuesday, they can choose rice or wholemeal bread for meals later in the week.
You might also like...
@Tonky - I have included a link to the School food in England government legislation which you may be interested in
here
. I don't think there is any risk to dehydration if your child can drink at breaktimes. If your GP thinks he needs extra fluids then I'm sure a doctors note to your teacher will be suffice to make sure he has extra. I can undertand your worry, but most children will drink water when they are thirsty, and drinking water far surpasses anything for being an essential part of the foundation for good health and effective learning, along with providing good oral health because it is sugar-free. However, if you feel strongly about the water not being kept correctly then that is probably something you should take up with the school. I hope this helps.
FoodGuidePyramid
- 2-Feb-15 @ 10:52 AM
Hello, I'm trying to find the policy on water only in school. I'm an extremely concerned Mum to find that my 4 year old son is going six hours at school without a drink. We've opted for the free school dinner that has been offered under the new rule for his age which is lovely but also then only be offered water at the table. My son will not drink plain water and I'm 100% sure this is not just an issue with my child. He is happy with flavoured none fizzy water or a drop of squash or milk! If I was to give him a packed lunch he could have squash. I tried to compermise keep him on school dinners which he loves but I'd supply him with a dink to have with his meal and still this wasn't right?!? I'm Just finding it very hard To understand how this plain water only rule is helping our children. I've spoken to our family gp as he was suffering with headaches and he was upset to hear this was allowed to go on that he was not drinking anything for that amount of time and need to be hydrated to learn. Not only is it just plain water its water from the tap and then left in plastic drinks bottles sat in their warm classrooms. Sure most people would agree to enjoy water a nice cold fresh glass of water is best.Hope you can help and maybe raise this concern as I know it's a big problem not just in my sons school. Many thanks
Tonky
- 30-Jan-15 @ 10:07 AM