Food Pyramid Tips for Optimum Healthy Pre and Post Surgery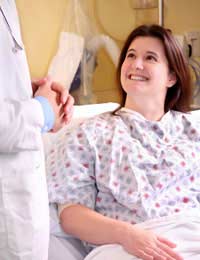 Surgery is often a frightening experience, even when it's elective or we've been given plenty of time to prepare for it. We tend to focus on what we need to do to adapt our houses to our reduced mobility or on how we will manage our work life or cope with childcare duties, but one of the keys to successful recovery from surgery is the diet we eat before and after we go under the knife.
Pre-surgery
The way you approach your diet, pre-surgery, depends on your weight. If you are classed as underweight it may be wise to try and gain some weight before surgery as it can be difficult to eat substantial amounts after surgery. If you are overweight, it's not a good idea to try and diet until you've fully recovered from surgery, as dieting can compromise your recovery.
The food pyramid has a big role to play in determining how well you prepare for surgery. Protein, for example, is an essential component of cell formation: too little protein and your surgical incision will not heal well and may knit badly, create a large scar or even ulcerate. The recommended daily allowance of protein is around 63 grams for men and 50 for women, which is best obtained through eating lean meat, oily fish or nuts. If your surgery is expected to cause unusual physical stress to your body (e.g. heart surgery or organ transplants) you may be put on a high protein diet to ensure that your cell formation is as rapid and consistent as possible.
Vitamins, Minerals and Micronutrients
We all know that iron is essential and that if we have low iron counts we have blood that won't clot well. It's not the only mineral that we need to focus on before surgery: copper is also important because it allows the body to sequester (store) iron better. Copper is a trace element: we need very little of it, and the best way to ensure we obtain it is to eat from the five food groups daily as this gives a range of opportunities to obtain copper from our diet.
Post-Surgical Diet
Some foods really don't help us when we are getting over surgery, in particular foods that promote constipation are a bad idea, because when we are already immobile or have our mobility reduced, foods that 'bind' us can contribute to the slow movement of the digestive tract. This causes gastric discomfort, constipation and general discomfort which can in turn slow the healing process so that a vicious circle begins to develop.
Focusing on whole foods is key to simple diet management after surgery: eating fruit rather than drinking fruit juice gives us fibre as well as vitamins. It also promotes the use of the jaw in biting and chewing and this action causes the digestive enzymes to start work, so it's like an early warning system for the gut and can mean that the body digests foods quicker and more thoroughly. Using the food pyramid to select the best whole foods makes it simple to eat a good diet once you leave hospital. Whole grain cereals, whole fruits and raw or salad vegetables, nuts and seeds and lots of water can all help improve healing time and reduce discomfort.
Dairy
The one area where you may wish to consult your specialist, nutritionist or GP is diary products. Before surgery, low-fat dairy foods are considered to be a valuable contribution to protein intake, but some people find that after surgery they contribute to constipation and may also trigger mucous production in the lungs and nasal passages – for those who already have respiratory problems, and who are bed-bound following surgery – this can lead to chronic coughing or sinus headaches so it could be worth trying to avoid dairy products or move to goat or sheep's milk based foods which seem less inclined to create these secretions.
Obesity Surgery: Research into Diet
In 2010 researchers in Spain produced a specialised food pyramid, designed for those who have undergone gastric bypass surgery. The new dietary programme is the product of bariatrics: the study of obesity.
Gastric bypass involves applying bands or staples to the top of the stomach to restrict the amount a person can consume. The diet that has been proposed is deigned to help patients for the first six months after the surgery and – as yet – no long term dietary guidelines for such people have been developed although many specialists and consultants have their own diets, there isn't a national, let alone international, agreement on diet. The Spanish version includes suggesting a careful balance of complex carbs and protein from good food sources and gives advice on how to eat enough essential fatty acids.
You might also like...