Gluten-free Food Pyramid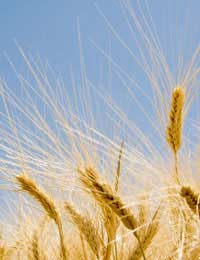 What Is Gluten Intolerance?
Gluten is a protein that is present in many, but not all, cereals. In the West we tend to think of wheat as the primary or only culprit but it's also found in such less familiar grain crops as rye, barley, spelt and emmer. People who have a genetic predisposition to the condition will find that eating small quantities of gluten containing foods can cause an immune response. This response creates chronic inflammation in the gut which damages the villi.
Villi increases the surface area of the intestines allowing the body to absorb nutrients. Without them, the body cannot make use of nutrients such as protein, fats, carbohydrates, vitamins and minerals. If unchecked this can lead to malnutrition and loss of function. This condition is called celiac disease.
Gluten intolerance is very common, affecting one out of every 100 people in the West.
A gluten free diet is safe, if eaten under medical supervision and is the only way to manage the condition of celiac disease. However a gluten free diet can be deficient in B complex vitamins, and may lack calcium, iron, and fibre. For this reason the diet has to include complex carbohydrate grains that are gluten free, along with lots of fresh fruits and vegetables. Gluten free grains include rice, millet, corn, buckwheat, and quinoa.
Safe Foods For Celiac Eaters
There are many naturally gluten-free foods which can be eaten without worry. These include meat without coatings or sauces, poultry, fish, eggs, nuts, beans, milk, yoghurt, cheese, fruits and vegetables as well as the grains listed above.
Foods To Eat With Caution
Certain foods can be consumed by the celiac sufferer if the packaging or ingredients have been examined to ensure they don't contain gluten. These foods include processed and packaged foods in particular. Soups and sauces, for example, may contain gluten, as may some soy sauces, salad dressings, processed meats like meatballs and salami, herbal teas, chocolates and sweets.
Foods That Cannot Be Eaten
These foods should be removed completely from the celiac sufferers diet: anything containing wheat, spelt, rye and barley or rarer grains such as emmer. Some oats can be eaten, but the packaging needs to be examined carefully as the processing of oats is usually carried out in the same factory as is used for processing wheat, which means there can be cross-contamination.
Food Pyramid And Gluten Intolerance
People who have gluten intolerance should consume the following foods at every meal: gluten-free bread, pasta and cereals, and potatoes and rice. These are a vital source of carbohydrates and fibre in the form of starch. This means they can easily be converted into the energy the body needs.
Foods To Eat Five Times A Day
A gluten intolerant person should eat fruit and vegetables five times a day because these foods provide fibre, vitamins, and minerals. For celiacs this group is also considered to include fresh pulses, particularly sprouting beans.
Foods To Eat Every Day
Gluten intolerant people should eat one or two portions of meat, fish or eggs for the protein they provide, along with trace elements, protein and B-complex vitamins. For celiac sufferers this food group also contains dried pulses.
Dairy foods are rich in proteins and vitamin B2 as well as calcium, so one or two portions a day are recommended.
Fats and condiments, preferably of vegetable origin should be eaten to provide fatty acids and the fat-soluble vitamins (A, D, E, K). These vitamins are essential to gluten intolerant people because they assist in the absorption of food.
You might also like...