Food Pyramid for Expectant Mothers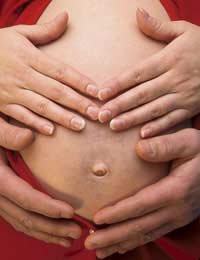 Eating Well Through Pregnancy
It's important that you check with your GP or health visitor to be sure you are gaining weight appropriately and getting the right nutrients for each stage of your pregnancy because the calories and amounts of food you need will alter during each trimester of pregnancy.
Variety And Types of Food To Eat
It's important to try to eat a variety of foods including:
Fruit and vegetables should be eaten as at least five portions a day.
Plenty of starchy foods such as bread, pasta, rice and potatoes – you need six to ten servings a day and at least half of those servings should be wholegrain.
Foods rich in protein such as lean meat and chicken, fish, eggs and pulses which help build your baby's immune system while supporting your own and are good sources of iron.
For pregnant women, it's important to consume lots of fibre to prevent constipation. This can be especially important if you are taking iron supplements which can cause constipation. Fibre is located in wholegrain foods, pulses and fruit and vegetables.
Dairy foods like milk, cheese and yoghurt contain calcium to help build healthy bones for you and your baby. Some experts advise drinking full fat milk in pregnancy as there is some evidence that skim or half fat milk may have some hormonal differences which may affect health. However there is no clear evidence yet one way or the other.
Special Nutrients For PregnancyFolic Acid
Current advice is that women should take a 400 microgram folic acid supplement every day from the moment they stop using contraception until the 12th week of pregnancy. It's always important to eat foods containing folate which is the naturally occurring form of folic acid. These are green vegetables and brown rice, and fortified breads and breakfast cereals. Folic acid reduces the risk of spina bifida. Be sure your supplement doesn't contain vitamin A.
Iron
Pregnant women easily become deficient in iron, so focus on lots of iron-rich foods in combination with vitamin C. Eating iron-rich foods with fruit or vegetables or a glass of fruit juice helps your system absorb iron. On the other hand, tea and coffee can prevent absorption of iron, so reducing your caffeine intake at meal times may boost the iron levels in your body. You may be advised to take iron supplements if your blood iron level drops too low.
Vitamin D
It's generally advised that women should take a supplement containing 10mcg of vitamin D daily unless they spend a lot of time outside in the sun, when they should be very careful about sun-screen as pregnancy increases the tendency to burn.
Foods To Avoid Include:
Cutting down on puddings, chocolate, cakes and biscuits, because these are high in fat and sugar and may cause you to gain too much weight during pregnancy which can be harmful for your baby.
Vitamin A
You should avoid taking supplements containing vitamin A including fish oils. Too much vitamin A may harm your unborn baby. Liver is a food that should also not be eaten in pregnancy owing to its high Vitamin A levels.
Cheese
Cheeses such as Camembert, Brie or goat cheese with rind and any soft blue cheeses are a bad idea because they are made with mould spores which can contain listeria. This is bacteria that could harm an unborn baby. Similarly all types of pâté, including vegetable pâté may contain listeria and should not be eaten.
Raw Eggs
Raw eggs and food containing raw or partially-cooked eggs such as mayonnaise can be dangerous because of the risk of salmonella, which causes a type of food poisoning very dangerous to pregnant women.
Raw Meat
Finally, it's important to ensure you only eat meat that has been well cooked, especially if the dish contains poultry or products made from minced meat, like sausages or burgers. Again, food poisoning can result from eating meat that is not very hot and cooked all the way through and this can harm unborn children.
Alcohol
Pregnant women and women who seek to become pregnant should not drink alcohol, as it can have a harmful effect on both conception and the unborn baby.
You might also like...