Food Pyramid Ideas for Raw Foodists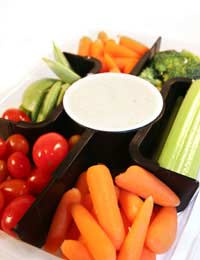 What Is A Raw Food Diet?
Raw food diet consumers, who may be known as raw foodists or rawists, eat a diet in which all, or the greatest percentage of the diet is raw food, usually vegetables and fruits, but in some cases, also including raw meats and fish – usually in the form of sushi-style raw fish. It is generally considered that if more than 60% of an individual's food intake is raw food, they are a raw foodist.
An average raw food diet will usually include raw fruits, vegetables, nuts, seeds and sprouted seeds, and may include eggs, fish, some meats and 'raw' dairy foods like unpasteurised milk and cheeses.
Why Eat A Raw Food Diet?
Those who eat a raw food diet do so because they think that uncooked foods both encourage weight loss and can either restore the body to health or prevent certain forms of chronic disease. The evidence is still unclear on this – some studies suggest that some raw food diets can cause health problems but others have shown positive results, especially in terms of losing weight. In either case, there is no doubt that a raw food diet needs to be carefully managed to ensure the right nutrients are available with the diet.
In addition to the need to manage the ingredients eaten on a raw food diet many proponents of this kind of eating also insist on eating largely organic or wild food because they believe it is more healthful and 'stronger' than conventionally grown food.
The basic question that raw foodists ask themselves is whether, if a food cannot be eaten in its natural state (for example potatoes, which are poisonous raw, or pulses that have to be cooked) it should be eaten for humans. It is their belief that humans should eat only foods that do not require heating to change their nature.
A Raw Food Diet Pyramid
To get all your dietary requirements you need to invest in obtaining protein from nuts, seeds and pulses that can be eaten raw. Sprouting seeds can be an excellent source of nutrients because they contains proteins, enzymes and vitamins and these elements increase as the seeds grow.
Calcium can be obtained from certain seeds, notably sesame seeds and almonds and also from fresh figs and from dark green leafy vegetables. Fresh soy beans, known as edamame, are a good source of calcium too.
Iron is delivered by eating leafy greens like watercress and spinach. There is also iron in certain nuts like cashews and peanuts. If your diet allows dried figs and prunes you will also obtain iron from them.
Fruit and vegetables make up the largest layers of the raw food pyramid. Leafy green vegetables are the base of the pyramid, with other forms of vegetable on the layer above, and fruits above them. This means the average raw foodist consumes a vast number of different fruits and vegetables in the course of a week and is well supplied with the vital vitamins C and E.
The only source of vitamin D for a raw food vegetarian, is either a supplement, or to get enough sunlight in summer to carry your body through the winter when sunlight is rare and thin.
Juicing grasses – specifically wheatgrass, along with vegetables and fruits can provide a nutritious drink that supports most raw food diets.
Health Concerns And The Raw Food Diet
Without careful management, a raw food diet can easily become too low in calcium and Vitamin D. It is very difficult to ensure children get enough of all the nutrients they need on a raw food diet because the volume of food they end up being fed is too great for small digestive systems, meaning they simply cannot eat enough to fuel their rapidly changing bodies.
There can be issues about infections and illnesses that arise from incorrectly prepared raw foods and food poisoning can occur.
You might also like...