Food Pyramid for Active People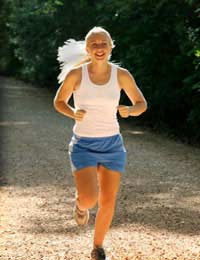 The Food Standards Agency was set up by Parliament in 2000 – its job is to protect the public's health and promote consumer interests. It has recently undertaken a research programme to establish the kind of healthy balanced diet that gives very active people the nutrients they need to take part in sports or activities.
The first guideline they've suggested is that a healthy diet for highly active people requires eating a wide range of foods. However for athletes and very active people, there are specific needs. The first of which is to eat enough carbohydrate.
Carbohydrates For Active Health
Taking part in a sport regularly, going to the gym, or leading a lifestyle where your job involves you in regular and strenuous activity means that you have an increased requirement for complex carbohydrates that allow you 'keep going' during exercise by providing the energy to fuel muscle contractions. This happens because carbohydrates break down into less complex sugars: glucose, fructose and galactose which the body absorbs and turns into energy.
Good carbohydrate intake is also important because it stops protein being used as energy which is what happens when a body doesn't have enough carbohydrate. It's better if this doesn't happen because the key role of protein is to build muscles and bones, so using your protein intake to provide energy can actually limit your body's chance to build and maintain a strong body. If you get tired during your activities it could be because the glycogens stored in the liver and muscles, are not adequate and you need to be eating more carbs.
Carbohydrate is found in wholegrain breads and cereals, wholegrain rice and pastas, especially wholegrain and spelt ones. Carbs are also found in potatoes, fruit, vegetables, beans and pulses. It is no accident that the wholegrains section of the food pyramid is the largest, when you consider all the work that carbohydrates do to keep us healthy.
Protein For Strong and Healthy Bodies
Protein is an essential component of muscle growth and repair as well as being a secondary source of energy – this means that people who are extremely active, especially athletes who train regularly, are likely to need more protein than the average recommended intake. Don't let this worry you – FSA research shows that the majority of people in the UK eat more protein than their bodies require, so there's no need to eat extra protein or invest in protein supplements unless you are doing it on a nutritionist's advice. High quality sources of protein include meat, fish, eggs and dairy foods.
Hydration and Active People
It's well known that dehydration can impair your sporting performance, so the first rule is to ensure you drink enough. For active people this means that you mustn't wait until you feel thirsty to start drinking – it's better to ensure you are fully hydrated before you begin to exercise and have water to hand so that you can drink during your activity as well as topping up when you've finished. Sports drinks are not an essential component of the life of an athlete or active person – diluted fruit squashes or a drink made of half sparkling water and half fresh fruit juice will be just as good at providing you with the glucose that your body needs to convert into instant energy during periods of intense physical demand.
You might also like...