The UK Food Pyramid: the Eatwell Plate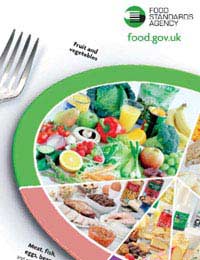 What Is The Eatwell Plate?
The Food Standards Agency in the UK created the eatwell plate to serve as a simple pictorial guide to healthy eating. Like the food pyramid, it shows the types and proportions of food the average person should eat on an average day to achieve good nutritional intake. It divides a plate like a pie, showing the size of each 'slice' of different kinds of food.
Cereals and fruits and vegetables have the largest slices while two other categories: Pink-rimmed dairy foods, and turquoise- rimmed meat, fish, eggs and beans are considerably smaller and foods high in sugars and fats have a very narrow purple-edged slice. The slices have a coloured rim to make the proportions of each food on the plate easy to see.
Eatwell Plate Versus Food Pyramid
Each form of healthy eating guideline is a perfectly sensible approach to meeting your nutritional needs. The differences between them are cultural rather than nutritional, so the British guide uses grams rather than cups and focuses on foods that are eaten more in Britain.
Some people find it more complicated to work with the American system as using cups as measurements is unfamiliar and some of the foods listed may not be recognisable – rutabaga, for example, is just swede and squash is not a soft drink, its members of the pumpkin family.
There are minor differences in the presentation of the two healthy food systems. For example, the British system puts fruits and vegetables together in one green-edged pie slice which is the same size as the yellow-edged breads and cereals slice. The American system separates fruits and vegetables into different systems.
In addition, the British system doesn't include an exercise component in its pictorial guideline, although exercise is mentioned in the text. What is included in the British advice is how to calculate your Five-A-Day intake of fruit and vegetables, which is a piece of healthy eating advice that has been taken up by many supermarkets and food producers and also school meals providers.
How To Use The Eatwell Plate
The eatwell plate has not achieved the level of public awareness that the American government has reached with the food pyramid. However, for people who have the desire to eat better or who've been advised to change their diets by their doctor, the eatwell plate is a very simple visual aid that can be used to really understand current eating patterns and to improve them very easily.
This is because you can look at the eatwell plate to see how much of your daily food intake should come from each food group. It's important to remember that you don't have to get this balance right at every meal as long as you set a regular period, like a week or a month, over which to try and balance your food intake according to the eatwell plate guidelines and always try to select foods that are lower in fat, salt and sugar.
It's also important to note that the wider dietary advice around the eatwell plate, which is not actually included in the plate, is vital to maximum health and nutrition. The two key pieces of advice are to drink six to eight glasses of water a day and to try to keep salt (sodium) intake to below six grams a day.
A final piece of advice relating to the eatwell plate that does not appear on the food pyramid is that healthy eating is easier to achieve and maintain if people eat breakfast every day.
You might also like...
What I want is to download and copy the whole poster but I can not do i, it speaks about it but it does not show it!
Rosablanca
- 12-Apr-13 @ 2:31 PM