Questionnaire: Are You a Food Pyramid Pharoah?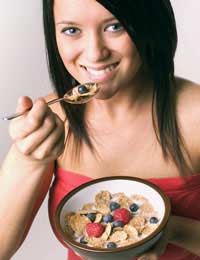 The basic Food Pyramid principles are easy to learn, but to be a Food Pyramid Pharaoh you need to have fully mastered the underlying ideas that help you create a healthy diet out of the Food Pyramid guidelines. This quiz tests your food pyramid skills and tells you whether you're a Pharaoh, gazing out from the summit, an Overseer, or a humble toiler at the base of the pyramids!
Quiz
1. The Food Pyramid has gone through a number of evolutions but tends to have the same basic principles. How many sections are there to the average food pyramid?
2. Which of these is a suitable healthy substitute for sour cream?
a) 100 ml low-fat, unsalted cottage cheese blended with 1 tablespoon skimmed milk and 2 tablespoons lemon juice
b) 50 ml Greek yoghurt mixed with 50 ml double cream
c) 75 ml buttermilk beaten with 25 grams melted butter.
3. Which food group provides the most calcium?
a) Dairy
b) Cereal
c) Protein
4. What rule should you bear in mind when choosing foods from the fruit and vegetables sections of the Food Pyramid?
a) The crunchier the fruit or vegetable, the better it is for you nutritionally
b) Hot tea and coffee destroy vitamin C so you shouldn't have hot drinks and citrus fruits together
c) The more colours you can get on your plate, the healthier you will be.
5. When menu planning for a really healthy diet, which food group should be treated as a condiment or flavouring?
a) Meat
b) Cereals
c) Dairy
6. When a Food Pyramid mentions discretionary calories it means …
a) The calories you can borrow from another member of your family as long as you pay them back later
b) Calories that haven't been used up in your essential foods, so you can choose how to use them up on less healthy foods
c) Discretionary calories are the extra ones you get if you do a lot of exercise and burn up a lot of fat.
Now check your answers and when you have your total, see where you stand in the Food Pyramid hierarchy.
Answers
1. The answer is six: cereals, vegetables, fruit, dairy, proteins and a tiny section of discretionary eating that contains fats/oils/sugars – you actually don't need to eat anything from this box, as a normal health diet has enough fats and sugars in it without adding specific extra fatty or sugary foods.
2. The healthiest substitute for sour cream would be a)- cottage cheese blended with milk and lemon juice, both the other versions would work as a substitute but are high in saturated fat
3. The answer is dairy – although leafy green vegetables are also a good source of calcium, it's still true that for the non vegan consumer, most calcium in the diet will come from milk, cheese and yoghurt.
4. Answer c) is the right one – 'rainbow eating' means trying to consume as many different coloured fruits and vegetables as possible because it provides the widest range of vitamins, minerals and trace elements.
5. If you want to be healthy, the right answer is a) – using meat or other proteins as a flavouring rather than as the biggest .
6. The answer is b) because most normally active people have a small amount of discretionary calories that they can use to consume less healthy foods from the very top of the pyramid.
Where You Are on the Hierarchy
2 or fewer right – you're still learning about the building blocks that make up your Food Pyramid but don't worry, even the humblest toiler is helping themselves to better health and better nutrition
3 or 4 correct answers – you've reached the Overseer level. You're not yet a Pharaoh but you're well on the way to mastering the secrets of the Pyramid.
More than 5 right – you're a Pharaoh! You really understand how the Food Pyramid works and what you can do to help yourself and your family to enjoy good food.
You might also like...