Food Pyramid for Breastfeeding Mothers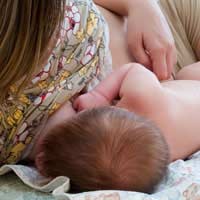 Giving birth is one of the greatest experiences of a woman's life, and being able to breastfeed is a great accomplishment for her, and a support to the health of her baby – getting food intake right can be a real help in these exciting, but often stressful, times.
It's not just good for baby to be breastfed: breastfeeding can help a mother recover from the physical effects of childbirth because it encourages the release of hormones and endorphins that speed recovery. It also helps in weight stabilisation, so that extra weight gained in pregnancy is quickly shed and appears to reduce the incidence of certain cancers of the breast and ovaries.
Food Pyramid For Healthy Breastfeeding
Women who are breastfeeding may feel and act differently because of the strains placed on their bodies in the production of breast milk.
There is a tailored Food Pyramid for pregnant and breastfeeding mothers, and its basic recommendations are:
Breastfeeding women need slightly more calories and trace nutrients than they previously consumed, as vitamins and minerals are transferred to their milk rather than being available for their own body's use. This means that they must ensure they eat adequately – they may need extra snacks on a regular basis to keep up the energy levels needed to lactate and they probably need to pay extra care to the range of foods they eat, as some babies may not tolerate certain foods (notably wheat, onions, spicy foods and caffeine) which means that mothers who remove these elements from their diet may end up lacking certain nutritional elements necessary to perfect health.
Protein
Protein is key to mother and child health and a lactating mother needs extra protein which may come from meat or fish or from other foods high in protein, iron, and zinc. Protein should be consumed twice daily and should consist of a couple of ounces cooked meat, poultry or fish, or an egg, or two tablespoons of peanut butter. Vegetarians may wish to eat pulses or soya products instead of meats. Remember that protein is also contained in grain products so when balancing your Food Pyramid, think about the protein in breads and cereals too.
Trace Nutrients
Iodine and Zinc - these trace nutrients are very important to a breastfeeding mother. Iodine is a vital mineral that helps produce the thyroid hormone which regulates healthy growth and normal development. Current guidelines suggest that between 190 and 270 µg of iodine is needed daily by a lactating woman. It's found in fish and seafood, milk and some vegetables. Zinc is actually a complex nutritional element, it forms part of several enzymes that assist in the proper formation of genes, and in the structural integrity of proteins – it all sounds complicated but essentially zinc keeps order in inherited characteristics and the lack of zinc can lead to irregular genetic expression or mutation. A breastfeeding woman should aim for 10 milligrams of zinc daily, obtaining it from meat, whole grains, milk, seafood, pulses and nuts.
Vitamins A, B6 And Folate
Vitamin A is another regulator of growth – it helps the body to develop at the right rate, and it also gives resistance to infections. Women vary in their need for Vitamin A, but as it can be obtained from a wide range of foods, such as dairy products, eggs, oily fish and the 'golden' fruits and vegetables such as carrots, pumpkin, and apricots, there's quite a variety of Food Pyramid blocks that allow for the consumption of this vitamin.
Vitamin B6 is necessary for the body to turn protein into building blocks for growth, especially the creation of red blood cells, so it's essential for both a new baby and a mother who's had a caesarean or stitches following birth. It can be found in several areas of the Food Pyramid, such as the protein section, where it's located in muscle and organ meats and in poultry and fish. It's also found to a lesser extent in most whole grains and in the vegetable block of the Food Pyramid, notably in Brussels sprouts and fresh or frozen peas.
Folate is another B vitamin that supports growth and development and it can be obtained from the vegetable and cereal sections of the Food Pyramid, where it's found in leafy vegetables like cabbage and in whole grains, peas and avocados.
FOOD GUIDE PYRAMID IS FOR SALE.
This website is for sale [more info].
You might also like...