Teaching Children to Cook Healthily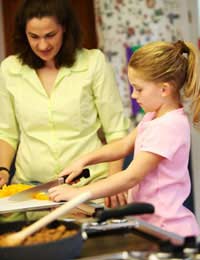 Why Teach Your Child To Cook
Learning to cook helps children to understand nutrition and healthy eating in a practical way. While such lessons are taught in school, putting them into regular practice is the best way to instil healthy eating habits. Young people today grow up with constantly available, and often cheap, fast food and junk food. This is one reason child obesity is increasing.
Teaching healthy cooking skills will help children avoid eating too much salt, sugar and fat. By preparing their own meals, children feel they are in charge of their health and empowered to take control of an area that is often seen as 'adults only'. We all know that when we are able to make decisions, we feel we have more responsibility than when decisions are made for us.
Cooking can also increase a child's self esteem because they are mastering a new skill, learning something important and contributing to the family – feeling they have a role to play can be a big confidence booster for young people.
Cooking together can also help your child feel valued and part of a continuum – what you learned from your parents they can one day pass onto their own children. It's a great way to get quality time together.
Children are much more likely to eat what they make – so children who cook are also more likely to be children who are adventurous about food.
How To Teach Your Child To Cook
You may feel nervous about this, believing you are not a great cook yourself, but don't worry. Children don't judge the way adults do and will be happy to follow a recipe with you. It is a good idea to try out cooking the dish solo first, just so you know where the 'difficult' bits are.
Allow plenty of time, at least twice as long as the recipe suggests, and remember that food and personal hygiene are very important. Lots of hand-washing and cleaning up may be required and skimping on that misses out an important lesson that healthy food must be carefully prepared to avoid spreading germs.
Make a shortlist of recipes but allow your child to decide which one you actually cook, this means you control the overall programme but your child gets to choose the day's activities.
When they have chosen a recipe, discuss how it can be made more healthy: can you reduce the salt included, or swap some sugar for honey? Is it possible to take out some of the fat, or convert it to a healthier oil? This kind of debate helps children see that a recipe can be altered for health without compromising its taste. Good places to start are scones, soup or flapjack recipes which are relatively cheap and swift to make and also virtually foolproof even for a novice cook.
After a while with simple recipes, expand your horizons. If your child has a favourite food, try to make that, so that they understand that you don't have to buy special food, nearly everything can be made at home with a good recipe and some patience. Food education may mean that you end up cooking something way outside your normal range but don't worry, you will probably surprise yourself!
Once your child is confident in making a few simple dishes, expand their range. The simplest way to do this is to bring home a new healthy ingredient: a mango, a coconut, some dried seaweed, a different cheese - whatever catches your eye, and ask your child to research recipes on the Internet. Supervise this part of the process so they don't find any sites inappropriate for their age, but allow them to select which dish they cook to try out this novel food.
You might also like...