Motivation Tools for Healthy Eating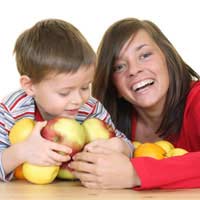 There are times when we all need motivation to eat healthily. Here are some ways to keep your motivation high whatever your circumstances.
Family Motivation
If your whole family has launched into healthy eating, it can be daunting to keep them all on target. Here's a way to get everybody involved by having a 'competition' where everybody wins.
Make a simple poster of the food pyramid – if you have children get them involved in drawing foods on the pyramid or cutting food pictures out of magazines and sticking them on. Then put the poster on the fridge door. Now buy some magnetic tape and write the name of each family member along it a dozen or so times, cutting it into sections so you have twelve little banners for each of you.
Now, every day, get family members to put one of their name-tags into the pyramid for each serving of each food that they ate: so if they had five cereal servings, their name would appear five times in that section of the pyramid. Try to stick to healthy eating for four or five days in a row, and then give your family a treat if at least one person succeeds: a trip to the cinema, or swimming or something similarly healthy and enjoyable for all.
Exercise Motivation
Keeping exercise levels high is one of the most difficult parts of changing behaviour. If your dietary changes include taking more exercise you will probably find that you want to eat more, as a result of exercise, just when you should be eating less. Give yourself the motivation of eating as many of certain healthy foods as you like – fresh fruit and vegetables cut into sticks or chunks and sprinkled with lime juice, or as much popcorn as you can eat – as long as you make it at home from plain corn kernels, one tablespoon of sunflower oil and only dried herbs and cracked pepper to flavour it. You'll be amazed at how good you feel when you take charge of your eating habits along with your exercise.
Of course you do have to go and do that exercise and the best motivator here is a personal trainer, but if you can't afford one, ask your mum or a friend to be your personal check-in and agree to ring them every time you are due to exercise. Their commitment is to talk you into doing it when you might have been wavering. Being accountable to somebody can really motivate you, especially when you know that they want you to succeed.
Weight Loss Motivation
It's really difficult to stick to a diet while improving your overall nutrition, but when you get the urge to slacken your healthy eating goals, put on your iPod or turn on a CD player and tell yourself that when you've listened to three songs, if you still want to eat something off your diet, you can. The songs have to be upbeat though – any kind of music you like, as long as it's the kind you can bop around to, and the lyrics must have positive messages, not misery ones.
Finally, you have to stand up while listening. This works because once you start listen to music that elevates your heart rate, and your feet or fingers start tapping, an autonomic system in the body decides you're being active and shuts down the hunger messages that it's been sending.
As we are rarely actually hungry - we've just trained our bodies to demand food at regular times - overriding these 'feed me' signals can help us cut through our bad eating patterns very swiftly.
You might also like...