Food Pyramid and Ramadan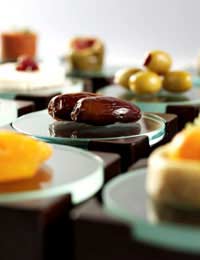 For many cultures there are religious and spiritual fasts that contribute to the life of the community but sometimes feel quite difficult to fit into the business or school world. Most organisations try to make arrangements that allow religious observance to combine with life in the modern world, and there are many ways to ensure spiritual practices are also good for you physically.
Healthy Ramadan And Food Pyramid
There are few differences to eating in Ramadan to eating well in other months as Islamic guidelines stipulate that one should avoid over-eating and encourage moderate intake of food, but when fasting is included in the programme it's important to focus on two other aspects of diet:
Sufficient calorie intake
Balancing the food groups.
Using the food pyramid to reassign your eating to the two main meals Eftar and Sohoor can seem complicated but it's actually very simple if you take the right approach.
Food Pyramid And Eftar
A healthy Eftar means breaking the fast sensibly, and it is good to begin with a small amount of food such as two or three dates or dried apricots or a glass of fruit juice that has been warmed so as not to shock the stomach.
Try to avoid fried or fatty foods for Eftar as they may upset the body and can leave you with stomach ache which can impair your spiritual awareness.
Make your Magrib prayer and then continue eating.
Make sure your Eftar meal contains all the main food groups and eat an extra bowl of salad to give yourself enough vitamins to make up for the meal in the middle of the day that you have not eaten.
It is good to have lentils and nuts as part of your Eftar as these will allow you to feel comfortably full without stretching the stomach. Drink plenty of water.
Although you may be hungry, try to eat slowly and chew well and do not over-eat as this is contrary to Islamic guidelines.
Healthy Sohoor
The Sohoor meal is very important as it takes you through the day and allows you to concentrate on religious principles not on your empty or rumbling stomach!
If you follow Islamic guidelines you can delay Sohoor until dawn, to make fasting less difficult, but many people eat Sohoor two hours before dawn.
This meal should contain all the food groups but be primarily focused on the consumption of fruits, vegetables, cereals milk and yoghurt. It's important to stay away from too much sugar and fatty foods as they can leave you with an energy drop later in the day and to drink lots of fluid, especially fruit or vegetable juices and drinking yoghurts as these will keep you hydrated and prevent a drop in concentration of the mind throughout the day.
Too much sugar can also make you hyperactive when you eat it and leave you irritable later in the day, which is what often causes traffic accidents and bad temper when travelling.
Mindful Ghabka
While Ghabka is always fun, and a great time to get together with others to enjoy a snack it is important to remember it is also a spiritual exercise. Try to cut out sugar, fat and pastries which can make you put on weight even during Ramadan, and when eating Ghabka with friends and family, remember that as well as having fun you should pray and to pay a part of the cost of the meal to the poor.
Ramadan and Food Pyramid Guidance
Ramadan is a good time to focus on your eating generally and to make changes to your diet that will continue when the month is over. Cutting down on fat and red meat, can reduce high cholesterol.
While it can feel difficult to exercise when fasting, simply walking in a park or playing with children can be enough exercise to keep you feeling fit and spiritually active during the month.
Resume your normal diet slowly, without rushing back into eating, and try to remember the principles of Ramadan through the rest of the year.
You might also like...