Food Pyramid for Perfect Skin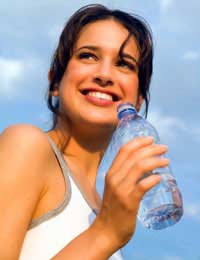 Perfect skin is a grail – something that just about everybody wishes for, even if they never achieve it. But moving towards skin perfection is easier if we think of it as meaning having healthier and more robust skin, which looks better and responds to the environment better.
The way to start working with skin improvement is from the inside out, by adding a range of skin improving foodstuffs to your diet, and by focusing on key power foods that support healthy, glowing skin.
Food Pyramid and Skin Perfection
A diet that delivers great skin is likely to be a diet based around the Food Pyramid: that is, that it will have a high proportion of whole grains and fresh fruits and vegetables and a low proportion of lean proteins and healthy fats, along with a good proportion of water and some daily exercise. But there are also some specific 'power' foods that can help boost the condition of your skin in association with Food Pyramid guidelines.
Basic Rules
Cereals and grains boost B vitamin intake – this means that a diet rich in whole grains will help maintain the health of your skin, and because some adult acnes are linked to hormones, and hormone fluctuations can be triggered by insulin, eating whole grains instead of polished 'white' grains (which have a high GI), can keep your insulin in balance and avoid the insulin spikes that can eventually emerge as spots.
Fruit and vegetables contain vitamin A which is essential for the maintenance and repair of skin tissue: they are also high in fibre which allows the body to pass toxins out of its system easily so they don't emerge through the skin.
Healthy fluids such as water, green tea and fruit juices hydrate the skin and allow it to flush toxins away before they emerge as spots, blackheads and pimples.
Booster Foods
From the nuts and seeds section of the Food Pyramid, on real booster food is almonds, which, despite their name, are a seed rather than a nut. They are packed with vitamin E which serves as a natural sun-block, meaning that if you eat plenty of almonds, your skin will be better equipped to fight off the bad effects of ultra-violet light and other environmental stressors. Another potent booster in the seeds section is flaxseed – these tiny seeds are rich in omega-3 fatty acids which not only erase tiny lines, they can also help remove irritation and redness from the skin.
Vegetable power foods include fresh carrots which stop the overproduction of skin cells, a common precondition for congested, spotty skin and spinach which contains folate – a key component in helping skin to renew itself and also allows water to penetrate skin membranes so that they look plumper and younger. Also valuable as a skin booster are sweet potatoes which help produce collagen and cooked tomatoes which are packed with lycopene which helps cut destroy skin-aging free radicals.
Tuna – whether as part of sushi, or in a tin, or seared on a barbecue, tuna contains selenium which helps to preserve skin smoothness.
Treats to Enjoy
Dark chocolate contains flavonols a form of antioxidant that can reduce skin roughness, giving a smoother texture. A couple of ounces of high quality chocolate with 70% cocoa solids twice a week is not only a treat for your palate, it's an essential skin supporter.
You might also like...