Food Pyramid and Dining Out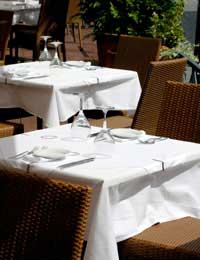 Dining Out – A Treat Or A Diet Breaking Occasion?
A meal out with family or friends should be a happy time, but if you are on a diet, or trying to eat healthily, it can also be a stressful experience as you try to navigate your way through the menu, seeking out foods that you will enjoy and that meet your nutritional rules or preferences.
Foods That Meet The Food Pyramid Guidelines
Baked potatoes are a high source of fibre and carbohydrate, and as long as you eat them with yoghurt, low-fat coleslaw or just cracked black pepper and some lemon juice, they won't add too much salt, fat or other 'small pyramid section' foods to your daily diet. A vegetarian chilli sauce or baked bean topping can help meet your meat or beans target. Stay away from cheeses, butter or sour cream which will push up your fat levels.
Salads are great, but an added salad dressing can exceed your fat levels for an entire day, and often contains very high levels of salt and sugar too. Always ask for 'dressing on the side' or for a small amount of oil and lemon juice you can mix into a dressing for yourself with the table condiments.
Grilled fish is a great choice, and again, if you avoid any creamy dressings, provides a lean, healthy meal that you can eat without guilt . Lean grilled steak is also good as long as you don't have the 'blue cheese' or other creamy dressing piled on top – such dressings can double the calorie content of the dish.
Fresh fruit and one piece of good (hard) cheese instead of dessert is the ideal way to finish your meal.
Restaurants That Help You Eat Well
Sushi is a low fat, high omega three, high complex carbohydrate food. As long as you don't drink a lot of sake, eating out Japanese-style is possibly the healthiest food option possible. You do have to watch out a little for the sauces, soy and mirin, and even miso soup, can have very high salt levels.
Salad bars allow you to mix and match your own salad – take care with the amount of dressing you use, and avoid the pre-dressed salads which are often high in salt and sugar, and you will probably not add anything unhealthy to your diet.
Indian food, especially the vegetarian dishes, is often high fibre and low fat. Take care with breads though, as they are often oiled and salted before cooking, making them tasty but something that should be a rare treat, unless you are sure the cook isn't piling salt and fats into your pyramid.
Foods That Can Turn Your Food Pyramid Upside Down
One way to think about the sugar element of the food pyramid is that we should try not to eat more than six to 12 teaspoon equivalents of sugar daily, and when we are at home we usually have a reasonable sense of how much sugar we consume. But it's much more difficult when we eat out.
Cakes and pies, ice-creams and other desserts usually contain a minimum of six teaspoons of sugar per serving – and can contain as much as 22 teaspoons of sugar, especially if they are chilled, because chilling reduces the taste of sugar. Any sorbet or ice-cream will have a lot more sugar that a dessert served at room temperature although they will taste similarly sweet.
Soft drinks can contain up to nine teaspoons of sugar too – so if you choose a soft drink and a chilled dessert, you could have eaten two days worth of sugar without realising it.
You might also like...