A Food Pyramid for Optimim Health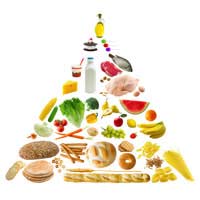 While it's long been known that a balanced combination of foods from all the basic food groups included in the food pyramid will help produce a fitter body and a healthier system, optimum health requires a different focus, which is more individual and relies on our personal behaviours, food preferences and genetic make up, as well as our budget and our willingness to invest time and money in achieving our utmost.
GI and Optimum Health
One key element that alters from person to person is the GI index. This is a standard numerical scale which indicates how fast and how high a given food raises blood glucose (also called blood sugar) levels. Foods with a lower glycemic index result in a slower rise in blood sugar which is important because foods that have a high glycemic index contribute to obesity, diabetes, and cancer. However, while the indices don't change, our individual responses to the foods can be highly variable – athletes, for example, regularly use both high and low GI foods to give them a peak of energy when undertaking a demanding activity, followed by a lower, slower, energy burn to sustain them. This could be eating a banana and maple syrup wholegrain sandwich, but somebody with diabetes would be ill-advised to attempt the same meal, because their blood sugar would rise too much and could trigger an insulin episode. This means that optimum dietary health has to be a highly personalised process.
In general, achieving optimum health through diet is likely to come from blending two very healthy diet systems: the classic Mediterranean diet and the traditional Asian one – this means eating much more of certain foods than the average European or American currently does, and removing some elements of our daily diets that are probably not helping us reach optimum health.
Foods to Avoid
Virtually all refined white flour contained in bread, pasta, cake and biscuits could be replaced by wholegrain flour to achieve an optimum diet.
Refined sugars in cereals and cakes, sweets and other treats such a chocolate have a very high GI index and may – with care – be replaced by less refined sugars such as honey, which are considered to be more valuable because they offer both trace elements and more fibre and dietary complexity.
What are generally called processed foods such as crisps, popcorn, salami and square cheese slices, marshmallows, frankfurters etc. are all considered to be foods that should be eaten rarely. This is because they contain ingredients, or have been through processes, that remove nutritional value or add unhealthy elements: salamis and other processed meats, for example, are extremely high in both saturated fat and salt.
Deep fried foods such as chips and doughnuts can add a massive number of calories to our diets, along with fat, for very little nutritional return.
Foods to Seek Out
Vegetables are key to any optimum diet, not just because they contain fibre and vitamins, minerals, carbohydrates and simple proteins but also because they are high in phytochemicals which help fight cancers.
Whole grains such as wholewheat bread, brown or wholegrain rice and other complex grain products, give us complex carbohydrates which are low GI, masses of dietary fibre, B vitamins and minerals and they have a higher protein content than so called 'white' or refined grains. They help fight diabetes, heart disease, and some cancers.