What Can I Cook From What's in My Cupboards?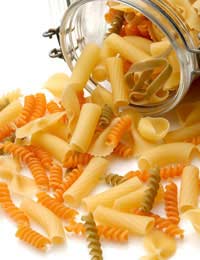 Cooking from your store cupboard and freezer needn't be boring. In fact you can make nutritious tasty meals without having to run to the shops much more often than you'd imagine.
Here are some recipes that both use store cupboard ingredients and meet food pyramid guidelines for healthy eating too.
Pasta
Everybody has some pasta lying around. Try to buy wholemeal for the extra fibre and trace nutrients. If you have spaghetti: cook, run under cold water to chill, drain and pat dry – now mix with some plain or Greek yoghurt: mint leaves and defrosted peas and a really big dose of freshly ground pepper – it's a delicious and healthy salad, ideal for lunch. For shorter cut spaghetti, try cooking, mixing with a tin of tomatoes and one of tuna (in water, rather than brine or oil) and then topping with any grated hard cheese – grill until cheese is bubbling and serve with bread: this makes an excellent supper.
For a stylish lunch or picnic, try using up some tinned fish in a Medley Pate.
Fish Medley Pate Serves 6 – 8, Ingredients:
1 tin anchovies
1 tin sardines in oil
1 tin tuna in water
75g cream cheese (use the lighter fat option if possible)
30 g butter
The zest and juice 1 lemon (or bottled lemon juice and half a teaspoon of ground almonds for texture)
Any fresh herbs you have to hand, chopped
Black pepper
Drain the fish and put in a food processor with the other ingredients and whizz until smooth. Spoon into individual containers like ramekins and refrigerate for 2 hours to firm up. Serve with a wedge of lemon and savoury biscuits or bread or spread on toast. Very good for picnics in a baguette with crisp lettuce.
To make a hearty meal for your family, try a warming soup – here are two recipes, the first very traditional, the second more exotic.
Bean And Tomato Soup Serves 3 – 4,Ingredients:
125g bacon
1 medium onion
1 garlic clove
1 tin chopped tomatoes
2 tins of beans: chickpeas, borlotti, aduki or haricot
Tomato purée
600ml reduced salt chicken or vegetable stock
Dice the bacon and onion and cook until both are transparent. Crush garlic and add and then mix in the rest of the ingredient and simmer for 30 minutes. If you'd like a thicker soup, liquidise half and leave the rest whole for texture. Excellent with crusty bread for cold days, this meal is high fibre without being too high in salt or fat.
Thai Noodle Soup Serves 2: Ingredients
Pinch dried chilli
I clove minced or crushed garlic
Ginger puree or fresh grated ginger
Spring onions or a small normal onion
A tin of coconut milk (or 500 ml rehydrated coconut cream from fridge)
2 teaspoons fish sauce or 1 teaspoon Thai curry paste or powder and 1 teaspoon anchovy sauce
A low fat vegetable stock cube in 600 ml hot water
A packet of fine rice noodles
Fry the onion gently and add any meat (see below) at this point. Mix in the chilli flakes, garlic and ginger to taste, then add the stock and fish sauce and allow to bubble lightly for five minutes. Now you can add the noodles: break them up if you don't like eating long noodles in soup, and the coconut milk. Bring back to a simmer and taste. At this point you may wish to add other seasonings such as lime juice, lemongrass, a little coriander or some mushrooms.
To make a family meal, add some stir fried vegetables like broccoli, peas or green beans, but for something a little more stylish, you can add prawns or some thinly sliced raw chicken, along with mange tout and tinned water chestnuts.
FOOD GUIDE PYRAMID IS FOR SALE.
This website is for sale [more info].
You might also like...