Healthy Food Pyramid for Babies and Toddlers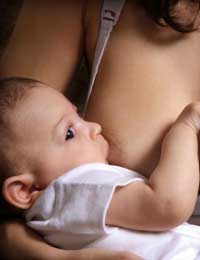 Every parent wants to give their child the best start in life, and increasingly, infant nutrition is being seen as a key factor in a child's future wellbeing.
The first months and years of life are vital to developing a strong body and an effective immune system. The neural pathways in the brain are also established in the first 24 months. For all these reasons, the way a baby or toddler is fed can influence their future.
Food Pyramid For Babies
The United States Department of Agriculture (USDA) which created the original food pyramid, designed it for adult use. The 2005 pyramid was adjusted to allow for child nutrition but there is still no guidance for babies in the standard food pyramid.
One reason for this is the assumption in child health circles that most children under a year will get most of their calories from milk, preferably breast milk, and that this natural food is the best start any baby could have.
Many doctors are trying to encourage parents to wean babies later than was usual and to continue breast-feeding, on demand, until at least a year. It is now clear that a baby's immune system is massively boosted if it receives the lymphocytes and macrophages that produce antibodies and other immune factors and lactobacillus bifidus – a friendly bacterium that prevent dangerous bacteria multiplying. All these occur naturally in breast milk.
Once a baby is about a year old it can be fed a range of foods, with a total calorie intake of around 1200 to 1400 calories daily. It's important to ensure that the foods you choose provide the necessary vitamins to ensure a child's full development.
Food Pyramid For Toddlers
Children between one and three grow very fast. To meet the demands of their constantly changing bodies, they should be fed a range of healthy foods. A serving may be as small as a teaspoon in very young children, so remember that little and often in feeding is very important and keep the portions small and in a form that can easily be digested. For example, pureed carrots for the youngest can become carrot sticks for two year olds as they get used to handling food.
Working from the food pyramid guidelines children of this age should have two servings of meat a day, which may be eggs, chicken, beef, etc but not processed meats like salami or bacon.
Two to three servings of fruit a day are essential and its important to start with non-acidic foods such as bananas, apples and pears as citrus fruits need slow and gentle introduction – they can irritate the sensitive stomach and colon of a young child.
Vegetables should make up three to four servings and carrots, parsnips and yams are a good place to start as their natural sugars are appealing to toddlers – then you can introduce peas and green beans. Stay away from cruciferous vegetables such as cabbage and Brussels sprouts at first as these produce stomach gases which are painful for young children.
Dairy products should make up three or four of the daily servings, coming from milk, yogurt and mild cheeses.
A young child needs four to eight servings from the grain section of the pyramid daily – made up from breads, cereals, pasta and rusks or biscuits. Try to make all these servings wholegrain.
Successful Feeding Of Toddlers
Remember to make mealtimes fun and don't get upset if your toddler doesn't eat everything – you can always catch up at the next mealtime. Try to introduce new foods regularly but in very small portions, just a mouthful at first, so that your little one can get used to new flavours and textures.
Never feed your toddler chocolate, salted snacks or adult soft drinks, as these all exceed the salt or sugar guidelines for small children. You can give carrot sticks, slices of banana or diluted fruit juice as snacks instead.
You might also like...