Food Pyramid and Athletes: Some Guidance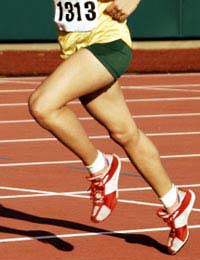 A Food Pyramid For Athletic Performance
Many athletes have very different dietary needs to those of the general public. It recently became public that the Olympic multi-medallist Michael Phelps eats an astonishing 12000 calories a day in peak performance training – that's six times the recommended intake for the average person.
The food pyramid can be adapted to help athletes improve their own performance while maintaining their health and protecting against injury.
It is assumed that most athletes will be exercising for five hours or more a week, at what is considered moderate intensity: swimming, running, playing tennis or football, for example. If you exceed this level of exercise by more than 50%, expert advice from a sports nutritionist should be sought.
If you exercise for less than five hours a week, you probably need to increase your grain intake and your water levels and may wish to consider taking a multi-vitamin supplement, but you do not need to make major adjustments to your diet.
Sport And Hydration
The most important recommendation for athletes, that is different to that given to the general public, is that hydration should actually become the base of the athlete's food pyramid. An active athlete should consider drinking 1 – 2 litres of fluid a day, composed of unsweetened fruit juices, water, and herbal teas.
Caffeinated and sugar rich beverages should only be consumed in moderation. For every hour of moderate exercise an additional 400 – 800 ml of fluid should be taken, in the form of a special sports hydration drink.
Vegetables And Fruit
Should be eaten at the same proportion as the standard food pyramid, although it is fine to consume more if the athlete does not have stomach upsets as a result.
Grains
The athlete should add another portion of grain food for every hour of exercise undertaken a day and it's important that as much as possible of this grain intake should come from wholegrain products to protect against injury.
Milk, Dairy And Meat
An athlete needs to ring the changes on their protein intake more than the average person does. They should alternate on a daily basis between getting their protein from meat, fish, eggs, and tofu or beans and also ensure that they have the same dairy intake as the standard pyramid, but ensuring they choose low-fat options where possible. This provides adequate protein and calcium for anybody, athlete or not.
Oils, Fats And Nuts
The same basic guidelines as the standard food pyramid should be followed, except that for every hour of moderate to high intensity exercise you should add half a serving of polyunsaturated or monounsaturated fat.
It's important that athletes do not consume more saturated fats as one of the major effects a poor diet is often the discovery, ceasing to exercise, that arteries have become clogged with saturated fats. This is particularly true for power sports where traditionally it was assumed athletes 'burned off' the excess calories. It is now known that the harmful effects of saturated fats are only held at bay by exercise, not removed entirely.
Sweets And Snacks
The athlete should consume the same limited amount of high fat, high salt and high sugar foods as the non-athlete, but should note in particular that alcohol can impair recovery from exercise or injury.
You might also like...