A Sample 2000 Calorie Food Pyramid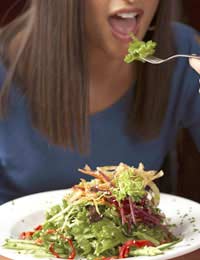 2000 calories is the amount per day that a moderately active adult female should consume without losing or gaining weight.
If you are a different gender, older or younger, or have health issues, your caloric needs will vary from this model and should be assessed by a doctor or dietician. However, many of us eat more calories than this and would benefit from re-educating ourselves to eat better in the long term.
The food pyramid was designed for a 2000 calorie diet, so you can simply take the portion sizes that are included on the standard food pyramid as your guide to healthy eating on a permanent basis.
2000 Calories And Good Health
If you are choosing a 2000 calorie diet to maximise your health, and one of your concerns is the risk of high blood pressure then reducing your salt (sodium) intake results in great benefits in reducing or not increasing high blood pressure.
A diet rich in fruits and vegetables has been shown to lower the risk of developing cancer, while for women in particular a diet that has a balanced intake of low fat dairy foods lowers the levels of osteoporosis (brittle bones) in later life.
Exercise is a key element that allows anybody to maintain a healthy weight and an overall healthy immune system.
Reducing Sodium
Only a small amount of sodium occurs naturally in our foods, because most salt is added during processing to increase flavour and aid preservation. This means that a diet naturally high in unprocessed foods will have less salt.
When looking at salt content on food labels, it's better to examine the grams and milligrams than percentages because they can be misleading. The ideal amount of salt for an individual in normal health is 6 grams daily. Around 75% of this amount is usually found in processed food so it's important to try and work out how much salt your processed food contains and see where you can reduce it by choosing low salt options.
Grains
You can eat 170 grams of various grains on the ideal 2000 calorie diet. Each of these counts as a 28 gram (old one ounce) portion: one slice of wholegrain bread, a crumpet or a British flat muffin. An American sweetened muffin can be anything from 200 to 600 calories, so don't confuse the two.
Vegetables
A 2000 calorie diet would allow you to eat five servings of vegetables.
Fruits
Five servings of fruit are allowed on a 2000 calorie diet, one serving counts as a cupped handful of chopped raw or cooked fruit, or 170 ml of unsweetened fruit juice.
Dairy Foods
Three portions of dairy food are allowed on a 2000 calorie diet and this could be 170ml skimmed milk, 35 grams of cheddar or 50 grams of cottage or cream cheese. It's important to try and choose low fat options where possible.
Meat Or Beans
It is best to aim at lean meat such as poultry or oily fish, and in either case a 160 gram portion is allowed, this can be made up of eggs (around 50 grams each), or any mixture of cooked beans or tofu, peanut butter or nuts.
Fats And Oils
Around 27 grams of 'good' fat should come from your 2000 calories.
Substituting Foods
You can change unhealthy foods for healthier versions without losing the taste appeal and pleasure you take in your food. For example instead of eating ice cream, try low- or non-fat frozen yogurt with fresh fruit on top. Whole milk can be replaced by half-fat milk at first, and then skimmed milk, and reduced fat cheeses can be substituted for full fat ones with no loss of flavour or cooking or eating qualities.
Discretionary Calories
If you can stick to the food pyramid system above, you should have around 267 calories left to play with each day which can be used to give yourself a treat, as long as you remember to ensure your little splurge doesn't exceed any of your dietary guidelines.
You might also like...