Food Pyramid: Low GI Style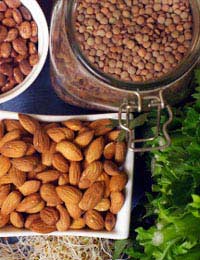 It's increasingly difficult to find ways to balance modern life-styles with healthy eating approaches and living through a recession makes this even more difficult as we wish to spend less on food and feel less able to take time at work to eat well.
Low GI Diets And Food Pyramid
The food pyramid is a classically low GI diet if we use it properly, but our lifestyle has become unbalanced and we need to address other areas of life too, if we are to have a healthy diet.
Modern life does not allow us to get enough exercise to use up the stored fats and sugars in our bodies. This means that we will become overweight. There are two things we need to change to be able to live well:
Better exercise with the focus on regular low-level and low impact aerobic work such as walking, playing simple family games outdoors, gardening or swimming.
In addition to this higher level of non-strenuous but regular exercise, we should try to eat more low GI foods and less high GI ones.
Carbohydrates And The Food Pyramid
It's desirable to eat 'good' low GI carbs and the food pyramid makes this easier for us. The Glycaemic Index tells us how fast the body converts a certain amount of carbohydrate into glucose to use in the body.
Carbohydrates above 70 are classed as high on the glycaemic index. 50 to 70 is considered moderate and carbohydrates below 50 are ideal foods and should be consumed in high proportion in relation to the ones classed above 70. In the low GI category are unprocessed fruits, vegetables, seeds and nuts which should, but generally do not, make up the bulk of our consumption.
Counting and weighing food often make people feel as if they are on a diet, and that can discourage them from learning to eat better. However, starting your food pyramid adjustments by weighing portions can be useful as it allows you to learn how to estimate the calories and consequences of eating certain foods by eye. Learning substitutions is important.
Giving a child a bag of peanuts or a bag of grapes is about the same, weightwise, but the lower GI of the grapes means they will feel full much sooner, and this feeling, called satiety, means they won't want to eat more food quickly, allowing them to properly digest and use up the carbohydrates from the grapes.
Because our brains use the drop of sugar in blood to tell us that it's time to eat, training our bodies to rely on empty sugar from processed foods means that we get the 'hunger' signal more often, so we eat more, and that makes our blood sugar spike, so it rockets up, and then drops, and the brain takes the dropping off of sugar as a sign of hunger, and tell us to eat again and a vicious circle is created.
Low GI Foods Encourage Safe Hunger Signals
Whole foods, when served in their natural state, or as close to it as possible, are much lower in GI than processed equivalents – a bowl of porridge is lower in GI than a flapjack, although both contain oats, because there is much less sugar in the porridge. Using lower GI and less processed foods as detailed in the food pyramid allows us to take control of our blood sugar and avoid the false hunger signals. Three simple steps will help you master your diet:
Use the food pyramid to assess your meals, focusing in particular on consuming at least five to six servings of fruits and vegetables daily
Where possible eat smaller and more frequent meals
If you must eat between meals, choose low GI snacks
Serious Food Problems And The Food Pyramid
There's an increasing range of clinical approaches to unhealthy forms of eating such as bulimia, anorexia and binge-eating. These medically based tools are meant to change people's eating habits, but the food pyramid has already established a point of 'healthy' eating available to all, so what is needed is a more focused approach to building good health, positive body image, sensible relationships to food and high self-esteem. One way of doing this is to use group dining to encourage people to enjoy eating.
In the group dining approach, each diner is assigned a course: starter, main course or dessert and cooks a dish that uses the right proportions of ingredients from the food pyramid. Coming together to share this meal gives a spiritual value to the experience and encourages us to look on cooking for and with others as an enhancing experience. It's also playful and fun to cook for others and to share what they have cooked for us.
You might also like...